Henning + Küchen/Müntzing + Lera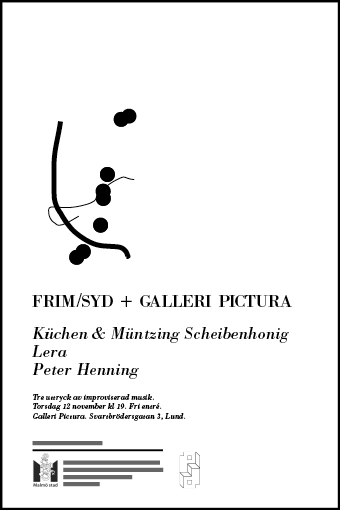 GALLERI PICTURA & FRIM/SYD PRESENTERAR:
Torsdagen 12/11, kl. 19.00
Galleri Pictura
Svartbrodersgatan 3, Lund
Fri entré
————————–
PETER HENNING
Improviserat soloframträdande av Peter vars musik pendlar mellan noisemusikens skrän, kassettkulturens dammiga magnetband och reduktionismens tomma ytor.
————————–
KÜCHEN & MÜNTZING SCHEIBENHONIG
Premiärspelning för den nystartade duon med Martin Küchen och Herman Müntzing.
Küchen & Müntzing Scheibenhonig valuates precious everyday sounds and deliberate marks the new Century with its constant streaming of superflous dexterity. And with formulas dedicated to no one. Hurled at the audience. Silent. Loud. Scheibenhoning from Küchen & Müntzing is THE new enterprise. With no goods to sale. All made on floor percussion and a flexichord, saxophone and small, small gadgets; electrical and non-electrical. We are soon coming for You. With our mutated honey.
http://www.myspace.com/scheibenhonigklang
————————–
LERA
Anna Högberg- saxofon
Linus Hillborg- gitarr
Emil Skogh- bas
Dennis Egberth- trummor
Denna nystartade kvartett träffades på den skånska landsbygden. Med melodin som grund utforskar de möjligheterna i samspel och stämning. Lera befinner sig i gränslandet mellan lugn och kaos, vackert och fult, hårt och mjukt.
————————–